China 1999 - Part Five
Meeting the artists...
During my lunch with the teacher's commission of Dongping, I met many people including a man sitting on the other table (thus less important according to Chinese culture) that shook my hands over and over again. 'Strange..' I thought. He seemed to be delighted to meet a stranger. But I didn't pay much attention to it and forgot about it a few days later.
The son of family Wang, my substitute family in Dongping, attended a school that was situated just in front of the hotel I stayed in during the first week. Because I didn't formally start my research I had plenty of time to watch what the students were doing. It turned out to be a School of Arts. I had already seen some beautiful Chinese ink paintings and calligaphies and was curious if and how the students would master this. One day at Wang's little restaurant, I asked the son if I could have a look. As we arrived at the schoolyard, the same thing happened as everywhere, people gathering me and my companion, trying to practice their English skills. We were invited by the head of the school and do you know who he was? It was the same guy that shook my hand so enthusiastically a couple of weeks ago. Not important? Well, after all he was the head of this school! China always puzzles me in this way. You take something for granted and then something happens that forces you to ajust your ideas. This also has to do something with me being an anthropologist for whom culture is overall important and thereby disregarding simple explanations. Probably the two tables were just the result of pragmatic logistics rather than culture alone.
With the drinking of tea and eating sunflower seeds, Chen Jing (the name of the head of the school) and I had a long conversation about Chinese and European arts, their differences and similarities. We both became very enthusiastic and being enthusiastic, Chen invited me to have my picture draw. I agreed and with an audience of over sixty students, especially laughing about my big nose (don't worry, it isn't too big according to Western standards, the Chinese just happen to have short noses), singing Dutch and Chinese songs (they asked me... I don't like singing for an audience much), Chen drew my picture. The result was astonishing! (see photo). There I saw my torso on a piece of paper. Not that very special of course, however, I had been drawn in a Chinese socialist fashion. I could have been a Chinese laborer looking with convidence into the bright communist future...
Huray!!&nbsp
If you don't believe me, try to get a Chinese Yuan bill and watch the way those faces are drawn on the bill.
The next day Chen Jing, Tom, who could translate for me, and I visited another artist, a calligrapher named Li Shou Bai or his translated artist name: 'the owner of the house without material and political pursuit'. This somewhat older man, Chen Jing and Tom are my age, hospitally invited us into his house and we watched how he conducted the ancient art of calligraphy. Below you see some photos.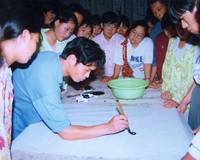 Chen Jing and his students&nbsp
Li Shou Bai, calligrapher&nbsp
Visiting these two artists in March 1999 led to the establishment of DuoArts an, at that time, company of Tom and me to purchase and sell Chinese ink paintings in the Netherlands. 'Duo' has both a Western and Chinese meaning. First, 'Duo' means two, second, and in the Chinese language 'Duo' means 'all with profound meaning'. Tom, becoming a good friend of mine and I formed this duo. The arts were considered to have profound meaning, because Chinese painting is not just about arts but reverts to a deeper symbolic meaning as well as the direct act of performing an artistic activity such as painting or calligraphing. The name DuoArts lives on in my current consultancy company, not because I conduct this business with Tom but because it has profound meaning for to bridge two culturally and historically distinct worlds, that is China and Europe. The two classic characters in Duo ('Du' and 'O') can be found in my company's logo (Duo = 都奥)
Logo&nbsp